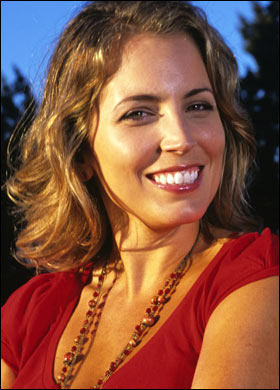 Jasmine Harman, 32, presenter of A Place In The Sun – Home Or Away? swapped the heat for a snowstorm one memorable New Year
Not long ago I counted up how many countries I've visited with work and it came to 40. Last year my boyfriend Jon, who's a cameraman, and I spent a total of nine months away – but we only indulged in two romantic meals the whole time.
After spending so much time in the sun, at the end of 2006 we ditched the heat to go skiing, and saw in 2007 in the Alpine village of Kaprun in Austria.
We spent a week in a mountainside four-star hotel, Zur Burg. I'm a vegetarian, so I was a bit worried I'd go hungry, but the hotel prepared something special for me every night – except New Year's Eve. While everyone else enjoyed a seven-course banquet I had pasta and tomato sauce! It wasn't quite what I'd had in mind, but after a few glasses of sparkling wine I was smiling again. Then at midnight, fireworks lit up the valley in an explosion of colour. It was magical.
The skiing was out of this world, too. Kaprun is so high up it gets snow all year round, and we hired an instructor and enjoyed some incredible runs on the slopes. But no lessons could have prepared us for the snowstorm we encountered 3,000m up the Kitzsteinhorn glacier.
The snow was coming down so hard when we got off the ski lift that they closed it and we were forced to make our own way down to safety like a row of ducklings. It's funny looking back, but it was scary at the time.
My attempt at ice-skating at the resort ended in drama too, when a kid cut me up and I went flying, landing in a star shape on the ice.
My body suffered but I've such fond memories from that trip, especially spending some quality time with Jon. Sometimes destinations become a bit of a blur for me, but Kaprun really stands out.
Packages to Kaprun staying at the Zur Burg Hotel start at £529. For more information go to Directski.com